3 min read
Are you going to Scarborough fair?
Scarborough is an old town with proud roots and traditions, formerly a major trading post in medieval and early modern England. Although Scarborough Fair has since faded into history and folk songs, a few small-scale attempts at reviving it aside, the town continues to be a popular tourist destination. It has extensive beaches, scenic parks, ancient castles, and still retains a bustling market scene. Despite its medieval origins and layout, there's a fair amount to do that's accessible to older and disabled visitors as well.
Have a look at these accessible attractions and sites to be found within Scarborough.
Scarborough Fair Collection
The Scarborough Fair Collection contains a whole host of vintage cars, steam engines, mechanical organs and fairground rides. Yes, the rides are operational and most are free to be enjoyed be the visitors. The Fair also hosts frequent entertainment and events, such as live shows, music, and afternoon tea. There's always something to see and do at the Scarborough Fair Collection, so it's always worth a visit.
All parts of the museum are fully accessible, with smooth floors and plenty of space for wheelchairs or scooters. The whole structure is on one level, so stairs are minimal. All parts of the museum are well lit, and seating is plentiful throughout. If any further assistance is required, all staff have received at least basic disability awareness training.
Rotunda Museum
One of the oldest purpose-built museums in the country, the Rotunda Museum contains artefacts and collections gathered over the decades. The Rotunda's focus even from its construction was geology and palaeontology, so its proudest pieces are its collection of 5,500 fossils and 3,000 minerals. Everything from Cretaceous-era dinosaurs to Ice Age woolly mammoth tusks are on display.
Admission is just £3, with the ticket covering both the museum and art gallery and lasting for a year.
There's wheelchair access throughout the Rotunda museum, with lifts allowing guests to bypass the stairs. The art gallery, however, is only accessible on the ground floor. The only way to the first floor gallery and toilets is by the stairs. All staff are trained to be "Dementia Friends" and assistance dogs are welcome.
Scarborough Castle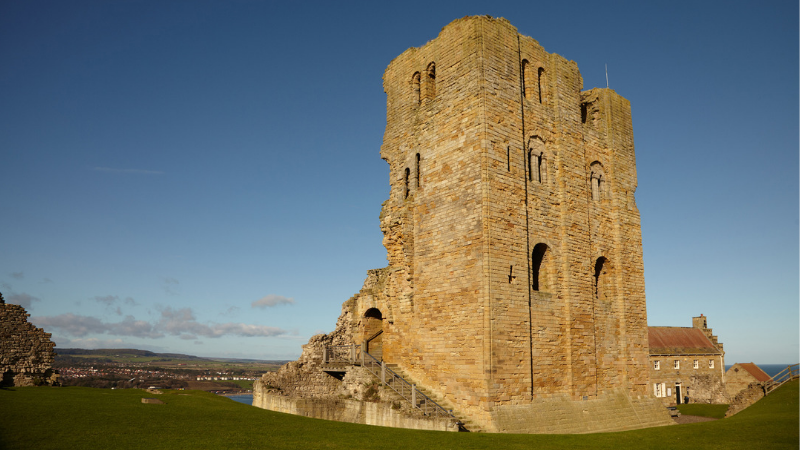 Rising majestically on the cliffs above town, the formidable Scarborough Castle has watched over this stretch of the Yorkshire coast for centuries. Now operated by English Heritage, the Castle offers unrivalled views of Scarborough and the surrounding lands and details the town's extensive history. As well as a small museum containing artefacts from Scarborough's past, the castle offers numerous events throughout the year such as knight schools, jousting, hands-on activities, and ghost tours.
The Castle grounds are accessible by smooth gravel paths, although people with wheelchairs will need strong pushers to get them up the steeper ramps and hills. Any steps on the site can be avoided through alternative routes. Written transcripts are available of any tours, and assistance dogs are welcome. Disabled parking is provided, simply let a member of staff know when you arrive at the castle gates.
Peasholm Park
Very recently restored, the Peasholm Park has been enjoyed by the residents of Scarborough for generations. With Peasholm Lake forming its centrepiece, the park offers a quiet and serene space to retreat and relax. The park draws inspiration from Chinese gardens, as evidenced by the design of the bridges and a hilltop pagoda. The paths are all level and easy to traverse across, offering routes to all parts of the park, and there are plenty of benches to rest upon.
In the summer, the lake is the staging ground for Naval Battles, where model ships square off against each other in nautical combat. Even when not recreating a modern-day Battle of Sluys, people can still be seen boating upon the waters.
Scarborough Spa
After Scarborough Fair started to lose its prominence as a major market, the town found new life in the refreshing waters of nearby springs and streams. Believed by many at the time to have properties good for your health, Georgian and Victorian tourists travelled from far and wide to enjoy the many spas that sprung up in town.
Even during its heyday, however, Scarborough Spa was enjoyed more for its music and entertainment than its waters. Today the Spa functions as a venue for a wide array of performances and acts, as well as parties and banquets. Visitors still come to enjoy the entertainment offered, as well as experience some of the finest examples of Georgian and Victorian architecture.
While building is completely accessible to people of all levels of mobility, performance areas only have limited seating for wheelchairs. The Spa also offers a state-of-the-art induction loop for the hard of hearing and assistance dogs are welcome.
Disabled parking is available, but on a first come first serve basis.
---
Are you looking for a home carer in Scarborough? At SuperCarers, we can help you arrange home care for yourself or a loved one in Scarborough and in the surrounding areas. Simply give us a call on 020 8629 1030.