7 min read
Travelling can be stressful at the best of times, and even more so if you are travelling with a disability. There is no "one-size fits all" when it comes to arranging an accessible holiday, and having to plan for mobility or other medical issues can make it feel too difficult. With a bit of effort however, it can definitely be worth it!
Before you go
Research, research, research!
1. To begin with, you need to be honest and realistic about your needs; you are the only one who really knows what you require in terms of accessible features, facilities and equipment. Try not to book a holiday according to how you feel at your "best". You'll be more comfortable if you're prepared for the worst (though hopefully won't need to be!).
Remember that not only do different peoples' definitions of accessibility vary, but also standards may vary between countries, so make sure that you explain your requirements rather than your disability clearly where necessary.
2. Once you have assessed your specific needs, consider the type of holiday and where you want to go. Some cities are not very accessible – this does not mean you should rule them out, but rather that they may be more challenging. Check out guidebooks and tourist information websites for advice, as well as online disability and travel forums. The UK Government website includes general travel advice broken down by country.
3. Once you know where you want to go, make a list of all the things you'd like to see/do while you're on holiday, and research their accessibility. You do not need to have a full itinerary, but it is good to know facts such as where the accessible entrances and facilities are, so you feel more prepared.
Don't let your disability fully dictate what you want to do however. Some things may be more challenging, but this doesn't mean they are not possible. There are lots of different activities that cater for those with disabilities. Even so, do not push yourself into something you're not yet comfortable with – there's nothing wrong with starting small and working your way up!
4. Now you can look at booking accommodation. Again, it is important that you communicate your requirements rather than your disability, and it is best to check directly with the hotel whether they can accommodate your needs, as websites and photos can only show so much. Things to consider are: step-free access to areas, disabled access to amenities (bars, swimming pool), handrails in bathrooms, ramps and lifts, charging facilities for wheelchairs/scooters, and disabled parking bays if required. It's also sensible to think about how far it is from the places that you want to visit.
It's important that you get confirmation in writing of your accessible booking, and of any special arrangements or assistance they agree to provide. This may help avoid any misunderstandings when you get there. We'd recommend looking at a couple of the websites listed in the final section when it comes to arranging somewhere to stay.
5. It's also a good idea to familiarise yourself with rough routes to the places you want to visit and public transport, if necessary. Planning transportation and knowing how accessible the trains and taxis are will make sudden changes easier to manage. In the same vein, make sure that you have contact details of the local transport companies, as well as emergency services.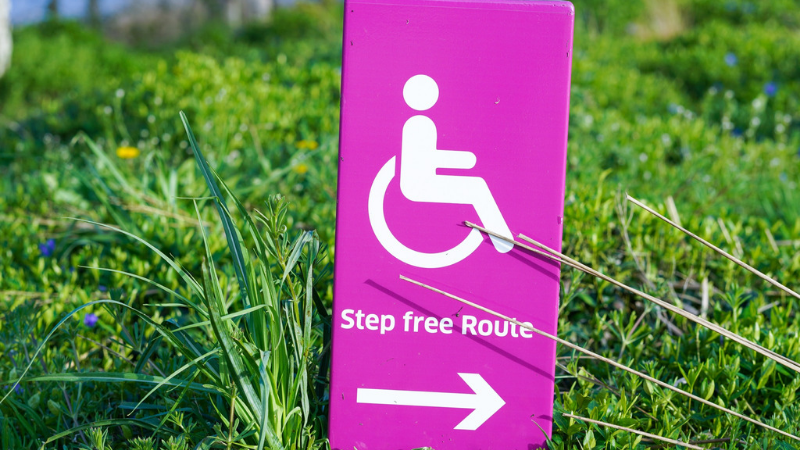 Pre-travel arrangements
1. Depending on where you're travelling to, you may need to arrange transport. However you plan to travel, it is best to contact the company directly to discuss your requirements.
Most rail and coach companies, as well as airports and airlines, in the UK and abroad will offer extra assistance to disabled travellers, as long as they are notified in advance of what you need, (such as help boarding/disembarking).
When flying, make sure that you are aware of airline regulations and what you're allowed to take with you; some airlines may not allow certain types of equipment or may have special stowing procedures. If you use a wheelchair, it's a good idea to be aware of its measurements and weight (and whether it folds down), and make sure to check with the airline if you need to bring specific documentation about your disability with you.
As with accommodation, make sure that you have agreements for any special arrangements in writing, to avoid any possible confusion. You also may want to consider booking time in the airport lounge, as this gives you a comfortable and quiet place to wait for your flight.
Don't forget to arrange transport from the station/airport at the other end if you need it!
2. If travelling abroad, it's important to arrange travel insurance; if you end up needing it, you'll be glad you have it! Check the options available and make sure that you get a policy that covers loss or damage to your wheelchair or any medical equipment that you may be taking with you. If you buy standard insurance and do not declare your existing disability, then you may not be covered.
It's a good idea to make a copy of your travel insurance (as well as accommodation and transport details) to give to your carer or someone you trust back home.
3. Start packing a couple of days before going so that you don't forget anything. Pack essential items like medication in a secure but accessible location (e.g., in your carry-on bag if travelling by plane). If you do need to take medication with you, ensure that you have more than enough, and consider carrying a letter from your doctor detailing what you take in case you need to get more at your destination.
4. If you intend to take a carer with you, then make sure to plan all these things with them, and give them copies of all the information and documentation you might need. Don't forget to let the accommodation and transport companies know that you'll be travelling with someone so they can take them into account with your booking!
Once you're there
Hopefully any issues that you face on holiday would be dealt with easily because of the preparation you've done. However, there are a couple of extra things which might be useful to keep in mind.
Firstly, make a "daily" checklist of things you need to take with you wherever you're going each day, such as medication, a portable power bank for your mobile phone, and a list of contact details for emergencies and transport.
Secondly, don't be afraid to speak up! It's not always easy to ask for (or accept) help, or to make a complaint with respect to bad service or the quality of disabled facilities, but you need to be able to stand up for yourself. Hopefully this won't be necessary, but otherwise you run the risk of being uncomfortable or upset when things can often be solved by having a quiet word with staff or others.
Further information and advice
The internet is an excellent source for advice, but it can be a lot to wade through! Below is a list of websites for accessibility tour operators, travel companies and useful information when travelling with a disability.
Able Magazine is an online and print magazine with news, articles and advice, as well as having a specifically travel-oriented version called TRAVELable.
AccessAble: provides detailed accessibility guides for many UK cities and popular attractions.
Access at Last only features accommodation with level access showers, and each listing includes practical information such as availability of handrails in the shower, the width of doorways and the height of the beds.
Dementia Adventure is a charity specialising in holidays for people with dementia and their carers. They also provide free dementia training for family carers.
Disabled Holidays is a travel company offering a range of accessible holidays both in the UK and abroad. They offer financial protection and accessible room guarantees, and can arrange for mobility equipment hire, and flights and airport assistance.
Enable Holidays is a tour operator with a variety of options for holidays in the UK and abroad. All accommodation and facilities are wheelchair accessible, including accessible rooms and disabled toilets, and wheelchair hoists for swimming pools.
Revitalise is a UK charity that provides short breaks and holidays for disabled people and their carers in holiday homes in Southampton, Southport and Epping Forest, with a variety of trips and activities.
The Good Access Guide is an online directory covering accessible places to stay in the UK, with detailed summaries of their accessibility features.
Tourism for All is a UK charity providing personalised holiday information and advice, via a membership scheme (charged annually). They also provide a free travel planner covering accommodation, things to do, and food and drink.
---
At SuperCarers, we can help you find experienced home carers, whether you need an extra hand at home, or are looking for someone to assist during a holiday. We can also help you arrange respite care to give your carers some time to recharge. Check out our blog about London's top accessible attractions to get inspired!