4 min read
As Scotland's largest city, Glasgow is a thriving and diverse destination offering some of the best examples of Scottish history, culture, architecture and hospitality. Despite its ancient beginnings, it's been very successful at keeping up with the times. It offers some brilliant attractions that are completely accessible to all its visitors, including older and disabled people and those with mobility issues.
Whether you want to visit its many historical landmarks and museums, sample the local cuisine, or hit the shops, a day out in Glasgow is a day well spent.
Celtic Park Stadium
Located in Parkhead, the Celtic Park Football Stadium is the largest of its kind in Scotland, able to hold an impressive 60,411 people all at once. A frequent site for football matches on all levels as well as musical performances by bands such as U2 and The Who, this is a popular attraction for football fans across the country.
The Stadium offers tours all days of the week, depending on whether there's a match playing, and while booking is not necessary, it is advised. The tour is completely accessible, with level access throughout and extremely helpful staff on hand to lend assistance where needed.
Tall Ship at Riverside
The Tall Ship at Riverside, known by numerous names in her past but now rechristened as the Glenlee, has a very long and varied history. Starting her sailing life as a cargo hauler, she made voyages across the globe as part of Britain's mighty trading fleet going as far as the Australian colonies. Sold numerous times, including to the Spanish Navy where she served as a training vessel, she returned to her native Glasgow in 1993 and was fully restored as a museum ship.
Now she sits on the River Clyde as part of the Clyde Maritime Trust, where she serves as a visible reminder of Glasgow's past as a major shipping port.
The ship is accessible by a ramp, and there is a lift to the lower decks. Likewise, an audio guide is available for the Captain's Quarters. A disabled toilet can also be found on the poop deck (apologies).
City Sightseeing Buses
Departing regularly and with over 21 stops across the city, the City Sightseeing buses are the best way to see Glasgow in all its finery. The tour takes visitors across the various sights that Glasgow has to offer, detailing its rich history and culture through a variety of audio and live guides.
All buses have ramps to allow access onto them, and the buses themselves are roomy and offer plenty of space for wheelchairs. Audio commentaries are also available in numerous languages.
Hogganfield Loch
Found smack bang in the middle of Glasgow, Hogganfield is a small tranquil oasis that offers a calm and relaxing escape from the rest of the city. Hogganfield Loch is a shallow loch surrounded by park land and holding a small wooded island off its eastern bank.
Access is easily found, as a tarmacked path runs right along the water's edge. It's easily traversed by wheelchairs and is flat throughout, making it ideal for those with impaired mobility.
There are numerous things to do within the park as well, such as birdwatching, an orienteering course, and sandy beaches along the waters that are perfect for picnicking.
Merchant Square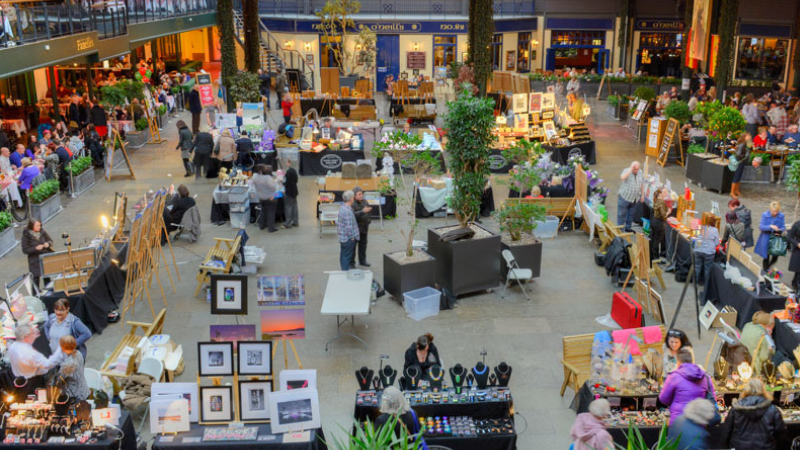 Forming the city's beating heart, Merchant Square is Glasgow's most popular centre for shopping, food, and entertainment. The centrepiece is the Tron Steeple, a 16th century tron that traditionally marked the location of markets in medieval Scottish burghs and towns. Its culture as the commercial centre of the town remains unchanged, and is host to many high-end shops, both international chains and independent businesses.
The whole marketplace is fully accessible to people of all levels of mobility, and there is plentiful seating within the Square as well. Public toilets can also be found here, including disabled facilities.
River Clyde Walk
The walk as a whole is some 40miles long and passes through Glasgow all the way down to New Lanark. After leaving the city, it continues through dazzling Scottish countryside, and scenic towns and villages. Whether you only walk down for a few hundred metres, or its whole length, it's a truly beautiful way to spend the afternoon.
The walkway covers a lot of ground and varies in its width and quality. However, within Glasgow proper, it's fully paved and offers smooth passage for wheelchairs. It's wide enough to accommodate two alongside each other as well. Further, numerous benches can be found along its length.
Kelvingrove Art Gallery and Museum
Since its opening in 1901, the Kelvingrove Art Gallery and Museum has become one of Scotland's most popular visitor attractions in the country. Its collection covers 22 themed galleries and holds over 8000 objects. Pieces include arms and armour through the ages, portraits, and pieces from natural history.
The museum offers disabled parking and is fully accessible to all guests, with wheelchairs available to hire at the main reception. Most exhibits offer a hearing aid loop, and assistance dogs are welcome inside. The new refurbishment was also intended to make the exhibits more accessible to its visitors, offering broader walkways and easier access to its collection.
---
Are you looking for a carer in Glasgow? At SuperCarers, we can connect you with experienced local carers who can support you in your daily life. Find your perfect carer now, browse our home carer services, or give us a call on 020 8629 1030 for more information.
You may also be interested in home care in Edinburgh.