3 min read
Should you ever drop by Surrey, perhaps to escape the noise and activity of London, drop by Farnham for an afternoon or two. Located along the River Wey and dominated by Farnham Castle, the town offers history and scenery alike to its visitors.
Whether it's to visit the Castle, or wander through the green tranquillity of the park, senior citizens and their carers will quickly lose track of the time when they drop by this charming Surrey town.
Farnham Castle
Farnham Castle has certainly been reduced over the course of its history, but its cragged stone walls and ancient towers still dominate the town's skyline. The castle was built in 1138 during the Anarchy, and was briefly demolished by Henry II during his reign before its reconstruction over the 13th and 14th centuries. During the Civil War, it changed hands between Royalists and Parliamentarians numerous times, which resulted in it being slighted on the orders of Oliver Cromwell.
Today the castle is owned by English Heritage, and entrance to the castle is free of charge. The central keep contains an exhibit detailing the castle's history, and the Bishop's Palace continues to function as venue for parties, events and special occasions. Private tours are offered on certain days.
As an old and time-worn structure, certain walkways can be a little steep and uneven for visitors unsteady on their feet. Otherwise it offers a refreshing and dramatic tour of Farnham's history.
Farnham Museum
Keeping in with history, Farnham Museum is hosted within a wonderfully preserved Georgian townhouse on West Street. It documents the history of the town from its prehistoric days right up to the modern era, with a collection containing thousands of items carefully collected over the centuries.
The museum hosts events and exhibits regularly throughout the year, so be sure to check ahead to see what is being held. Blue badge holders are offered free parking, and wheelchair access and large print documents are available.
Admittance to the museum is free of charge.
Rural Life Centre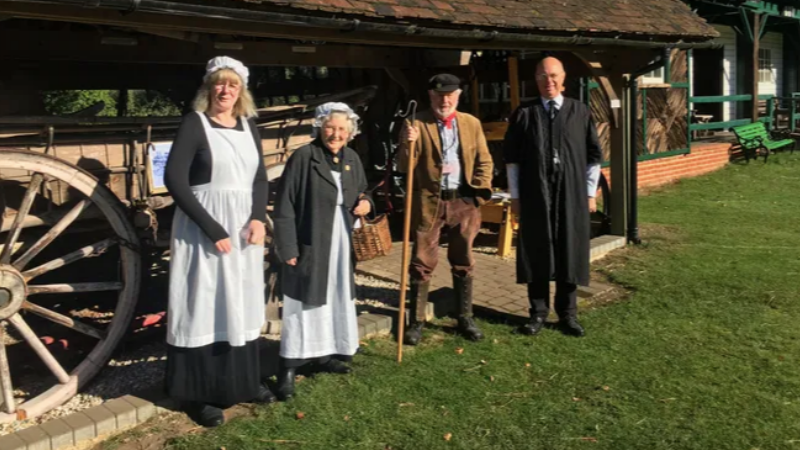 The Rural Life Centre takes its visitors through life on a typical Surrey farm from the Agricultural Revolution of the 18th century right through to the birth of modern farming in the 60s. The Centre does its best to preserve once-common aspects of rural life enjoyed by the people of Farnham for centuries. Each building contains pieces and artefacts collected over the generations.
As well as offering local produce and crafts, the Rural Life Centre also offers courses and lessons in traditional activities such as quilting and blacksmithing.
Disabled parking is offered, and dogs are welcome on a leash. As a former farm building, the grounds can be a little uneven, but The Rural Life Centre prides itself in being an attraction for all ages. A £1 discount is offered to senior visitors.
Farnham Park
The park was first planted by Norman nobles as a place to hunt deer, and it's been maintained ever since. Renovated in the 17th century, from which it still retains many of its features, it is now open to and enjoyed by the public.
Farnham Park contains numerous features and facilities, such as a cricket pitch, golf course, gravel and paved paths, toilets and a cafe. It offers a quiet and relaxing place to amble, or a scenic location to enjoy a picnic. Come here for some exercise and blow off steam before exploring more of the town.
Waverly Abbey
The first Cistercian community to be established in Britain, Waverly Abbey was constructed by the Order in 1128 and used to help springboard their presence throughout the rest of the island. It quickly grew into a large and prosperous religious community, and dominated the life of Farnham until the Dissolution. Now largely dismantled, the ruins are owned by English Heritage and open for tours. Many of the more prominent buildings remain almost intact.
The ruins are located across a field from the carpark through a kissing gate, and keep in mind cattle use said field to graze. This could make getting to it tricky for some senior guests. Otherwise the ruins themselves are quite accessible, and dogs on leads are welcome. Audio tours are also offered.
Being operated by English Heritage, entrance to Waverly Abbey is free of charge.
---
Are you looking for home care in Farnham? At SuperCarers, we will help you find your perfect carer to enable you to stay in your own home. Whatever type of home care you need, we will match you with a carer that is right for you. Call us on 020 8629 1030 and we'll answer any questions you may have.
You may also be interested in home care in London or home care in Southampton.